The good news is that soon, we can return to school and although things won't be exactly as they were before, at least we will be back in our classrooms and surrounded by our friends to join in together with our learning.
Again, this might make you feel anxious or worried as it's another change to encounter.
Below are some resources to help you prepare for the return and to start to come to terms with the next challenge to be faced.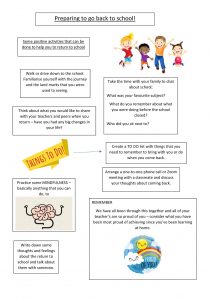 What might school be like now?
Information on transitioning and tips and tricks for keeping safe on your return
For younger children  
Discussions about 'bubbles' and social distancing